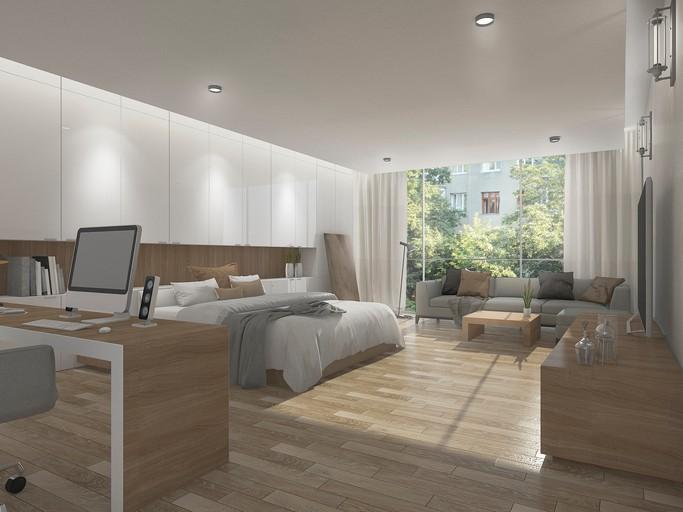 Beaulieu laminate flooring isn't just for your floors. In fact, there are several different ways to use Beaulieu Laminate products in your home other than on your floors.
Walls
Beaulieu laminate flooring can be used on your walls instead of wallpaper or paint. It makes a great choice instead of wood for wood paneling. The Castlemoor style, for example, resembles driftwood and would make a beautiful accent wall that fits in perfectly with today's home decorating trends. Beaulieu laminate flooring can be installed right over existing wall coverings, cutting down on time and cost.
Table or Desk Tops
Have an old piece of furniture that could use a little TLC? Using Beaulieu laminate flooring to create a top for a desk, table or even dresser could be an affordable practical choice. Laminate flooring is extremely durable and easy to clean and maintain making it an excellent choice for kids' furniture.
Using Leftover Flooring for Art and DIY Projects
There are an endless amount of things you can make with leftover Beaulieu laminate flooring. Here are a few of our favorites.
Rustic Signs- A huge trend in home decorating is rustic signs. You can use leftover flooring to paint phrases on such as "Farmhouse", "Home", "Family" or "Farmer's Market" that make adorable accent pieces anywhere in your home. Try using stencils for the lettering to play around with different styles.
Bowling Alley- Have some extra space in the garage or basement? A DIY bowling lane would be something everyone could enjoy. Using leftover laminate flooring, you could create a single bowling lane the perfect size to fit in your space.
Pantry Shelves- You can turn a simple metal storage shelf into a stylish piece of decor using leftover laminate flooring to line your pantry shelves. The laminate makes the shelves more durable and easier to clean too!
Stairs- Using laminate flooring on your stairs, either the top of the step or the backing can turn a basic staircase into a stylish focal point.
While you're browsing Flooring Superstores Edmonton to pick out the perfect Beaulieu laminate flooring for your home, be sure to keep in mind all the amazing things you could do with it, or contact us for help.