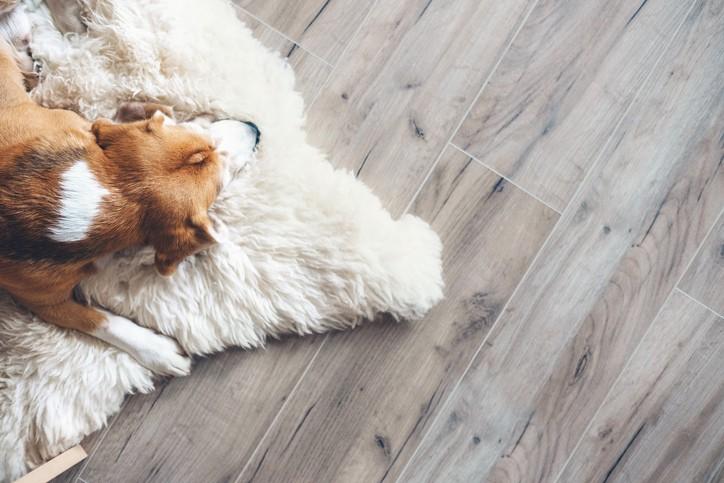 Hardwood is always a classic look for homes, but it can expensive and hard to maintain. Luckily, laminate flooring gives your home all the charm of hardwood without the large price tag. Shaw laminate flooring comes in a wide variety of styles and colors, that comes in looks from traditional dark maple to farmhouse gray- all inspired by nature- so you're bound to find exactly what you're looking for. Laminate also has several benefits that make it a practical choice, especially for homes with kids and/or pets.
Easy Installation
Shaw laminate flooring has amazing click and lock technology that allows it to be installed over existing flooring, eliminating the need for costly and time-consuming demolition. It also makes it a perfect DIY project, eliminating even more costs by not having to hire profession installers. Your finished project will look perfect and be ready for foot traffic in record time.
Moisture Resistant
Shaw laminate flooring offers Repel technology, making extremely water resistant. Spills are easy to wipe up with a cloth and won't penetrate the surface. This makes it an extremely practical choice for kitchens and common area, especially with kids and pets.
Scratch Resistant
Another feature that makes Shaw laminate flooring perfect for family homes is its OptiGuard finish. Not only does it make your floors extremely scratch resistant even under the toughest circumstances, it gives the floor a realistically detailed beauty lacking in other laminate products.
Affordable
Cutting down on installation cost, maintenance and repairs all add to the affordability of Shaw laminate Floors. But even with all that aside, laminate costs a fraction of the price per square foot than hardwood. Plus, Shaw laminate flooring offers 15-year, 20-year and 25-year warranties on their Laminate products, making it an even more practical and cost-effective choice for your home.
Shaw laminate flooring is one of the most durable laminate products available and comes in so many styles and colours, all comparable to real hardwood. It is designed to be an affordable yet stylish option for homeowners and it delivers on that promise. Come out to Flooring Superstores in Edmonton to browse all your options in Shaw laminate flooring today!