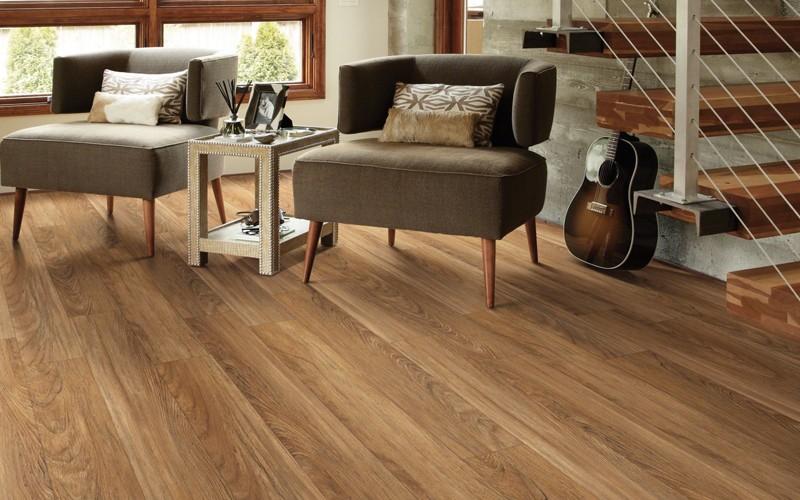 The thought of combining vinyl with the word "luxury" seems like an oxymoron. That's probably because it conjures up images of the bright lime green or infamous oranges and browns of vinyl we saw decades ago, back when vinyl flooring was all the rage. Back then it was known for being easy to tear and let's face it, kind of ugly. Fast forward to today where we have luxury vinyl plank flooring (LVP) and you have an amazing product that is the perfect flooring choice for your Edmonton home. We have got five big reasons why luxury vinyl plank belongs in your home!
Reason #1: Realistic Wood, Stone or Tile Patterns
If you love the look of wood but aren't too fond of the maintenance involved or worried about damaging it, then luxury vinyl plank makes is a perfect alternative! Manufacturers use a modernized photogravure printing process to create incredibly detailed and textured replicas of various wood styles, stone and tile that rival their real counterparts. The result is an incredible array of choices that suit any taste or decor theme.
Reason #2: Unbelievable Durability
LVP is a composite flooring type that was originally designed for commercial applications. While luxury vinyl plank has now stormed the residential market, the exceptional quality and hard-wearing surfaces have not been changed except to create looks that suit home use better. We recommend choosing something you will love for decades because you're likely to outgrow your taste before you'll ever wear out this flooring!
Reason #3: Care That's Easy as 1, 2, 3
For busy Edmonton families, luxury vinyl plank is a great choice if you want flooring that is low maintenance. To keep this flooring looking as good as the day you got it installed, you simply have to vacuum or sweep for daily dirt control as needed and a quick mopping when you need a deeper clean. That's all there is to it!
Reason #4: Water, Scratch and Scuff Resistant
This is a big concern for anyone when choosing flooring: wood and water or spills do not mix. There is very little your family can throw at luxury vinyl plank that would cause any damage. Vinyl resists water since it's non-porous, making spills nothing more than a minor inconvenience. This also means that fruit juices, wine and more are very unlikely to stain and clean up easily.
Reason #5: It's Always Nice to Save
Yes, we've saved the best for last! With all of these benefits, you would expect luxury vinyl plank flooring to break your budget. The good news is that LVP flooring is less expensive than solid hardwood flooring choices. The ease of installation lowers the cost even more and when you factor in how long this flooring will last, the pricing is unbeatable!
We would love to show you how beautiful luxury vinyl plank flooring is and tell you about even more reasons why it belongs in your Edmonton home. Contact us today at Flooring Superstores Edmonton to learn more about why LVP is perfect for your home! Why not even stop by our showroom to see how amazing this flooring is for yourself?