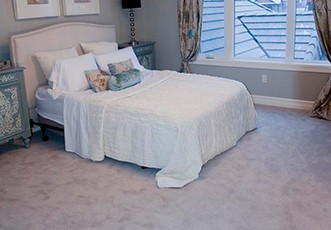 When it comes to flooring, we hear a lot about hardwood, laminate, and vinyl, but don't count carpet out! Consumer demand for carpet is rising and the market of offerings is growing. Whether you love classic carpet or want to embrace a trend, here are a few trends in carpet flooring you should consider for your home this year. Visit us in store to see the latest samples!
Plush
Consumers are showing more interest in their homes not only being well designed but putting an emphasis on comfort. Plush carpet is inviting and incredibly comfortable. It enhances interior décor and the appeal of your home. It makes guests and your family feel warm and cozy. In fact, there is an increasing demand for plush carpet for areas like bedrooms because not only are they luxurious, but they make your space somewhere you want to spend more of your time.
Patterns
When you think patterned carpet, you might think of the 1970s or some unfortunate carpet squares. In 2020, patterned carpets are actually trendy again and homeowners are using them to make a statement. Multi-color patterns use solution-dyed yarns, dye variants, and special yarn processing that give them a special look. Popular patterns to consider are herringbone, stripes, and fun geometric patterns. Patterned carpet flooring is most frequently chosen for living rooms over other rooms.
Durable Options
With the demand for carpet rising, manufacturers are coming with more durable options including carpet flooring that is stain resistant. This trend combines luxury and performance to adapt to our fast lifestyles. Durable carpets can resist stains from red wine to pet messes. Premium fibers and woven options are forecasted to grow quite a bit over the next few years because they offer designers, consumers, and architects options that have enhanced performance, aesthetics, and value.
Bold Colors
If you're a little daring, but patterns might still be too much for you, try bold colors. Statement colors like oranges, purples, and multi-color options are popping up all over the place. This is especially true when it comes to younger homeowners who are willing to take more daring choices when it comes to design. Carpet flooring is a fairly lasting commitment so choosing a bold color needs to be a choice you're prepared to live with for the long haul.
Texture
Texture is easily achieved when it comes to wood flooring, but that doesn't mean you can't achieve a textured look with carpet. Contemporary carpets have textures that create patterns and designs. Things like chevron patterns can provide an interesting feel to the room while maintaining the warm, comfortable appeal of carpet.
Grey
When in doubt, choose a neutral colour and one of the most popular neutrals right now is grey. It can be found everywhere from cabinet doors to front doors and more! No matter what shade of grey, you will find the perfect one for your home. It is chic and trendy while setting the tone for your space.
Carpet for Your Style
Carpet is a great way to add warmth, coziness and flair to your home. Whether your style is bold and flashy or soft and subtle there is a carpet flooring trend out there for you! Come visit our flooring consultants to find the perfect carpet for your home.