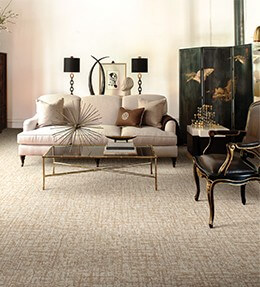 Choosing a new carpet for your home can seem overwhelming. How do you know which one is right for your lifestyle? Not only your lifestyle but your budget and your personal style? Hardwood floor has taken over in popularity over recent years, but carpet shouldn't be left out as an option. There are many reasons to consider choosing carpet including added warmth and comfort. Carpets can also provide soundproofing which makes it a better option for some rooms. But how do you know how to choose the best carpet for you? Contact us to learn more.
Carpet Flooring Types:
One thing you'll automatically consider is color, patterns, and styles. But the style of carpet you choose is dependent on your lifestyle. Carpet style is defined by fibers that make up the backing. There are 5 common styles:
Plush Carpeting: Plush carpet is best for formal rooms due to its luxurious nature. It is high maintenance as it shows footprints and vacuum tracks.
Textured: Durable and great for high-traffic areas of your home because it won't show wear, footprints, or dirt as much as other types.
Twist: Twist is informal and a short shag style suitable for children and hiding footprints.
Looped: Looped is the most formal of the carpet and isn't ideal for homes with pets and kids. It can snag easily but is easier to clean.
Cut & Loop/Patterned: Great for families because it hides dirt well, but patterns can become dated over time.
What Makes a Good Carpet Flooring?
Once you know which carpet style best suits your family and your home, next you'll need to look at the quality and durability of the carpet. One of the main things to consider is the type of carpet fiber and its density. The best carpet fibers are wool, nylon, or a blend of both. They are much more resilient, durable, and easier to keep clean than other types. Man-made fibers like olefin and polyester are suitable in playrooms but really aren't useful anywhere else making them far less appealing. When it comes to density the rule is the denser the carpet, the better the quality. To increase the longevity of the carpet, choose one with a good tuft twist rating – a minimum of 5 is best. The quality of your carpet padding will also affect the overall look and longevity of your carpet. Be sure you choose higher quality padding to help your carpet stand the test of time.
Carpet Colors and Trends:
It might seem like a good idea to jump to trends when choosing a new carpet flooring, but since laying quality carpet can be an investment, it's best to make sure you choose something classic. It will be able to adapt and thus improve longevity and you won't have to replace it as often. Here are some options to consider:
Neutrals: Neutrals are a classic, trusted go-to. Not only have they been fairly trendy over the past few years, but they will easily fit into your décor scheme.

Blues & Earthy Greens: These colors are a great option if you're going to be a bit more daring with your style. They are muted and still soothing and natural enough to stick around for a few years.

Textures: Textured carpet creates an earthy feel within your home. Choosing a more textured carpet can be both cozy and chic.

Update Your Carpet This Year
Choosing new carpet flooring for your home comes down to a few considerable factors including needs and your lifestyle. Since carpet can be a costly investment, you will want to pay attention to trends but not entirely rely on them for guidance. If you're ready to update your carpet flooring, contact us today to get started!