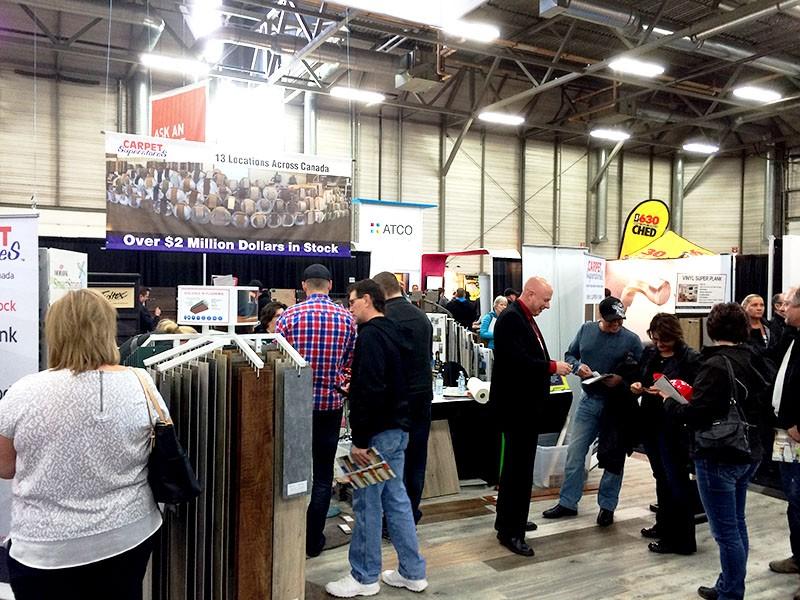 Our incredible weekend at the Edmonton Renovation Show 2016 is behind us and we're excited to give you a recap in case you weren't able to come or if you were there but wanted more information. To everyone that did come out to see us, thank you! Our booth at the show was the busiest by far and we couldn't be more proud.
New and Returning Customers
We do as many home and renovation shows as possible through the year so we can help new and returning customers learn about what's up-and-coming in the world of flooring. It gives us a chance not only to get a change of scenery, but to meet and talk to so many of you due to the high volume of people that pass through our booth.
New customers this year at the Home Reno Show were most interested in questions surrounding renovating an older home, new builds, finishing their basements and even flipping houses. Many were pleasantly surprised to see the wide variety of new and innovative products we can supply such as Shaw Life Proof carpet, which is waterproof.
Our returning customers pleasantly surprised us! They stopped by to let us know how much they loved their new vinyl plank flooring and how easy they found it to install. Many of them were ready to place orders for other projects they had coming up.
Luxury Vinyl Plank and Luxury Vinyl Tile Steal the Show
Our LVP and LVT flooring definitely stole the spotlight as these were the types of flooring customers were asking about the most. Many people are still unfamiliar with these amazing products and we were able to provide them with a lot of product knowledge and the pros and cons of these flooring types. Just a few of the benefits of luxury vinyl plank and luxury vinyl tile flooring include:
Perfectly-blended style and functionality
Great for allergy sufferers and a high hygiene value because they are non-porous
Softer and less noisy to walk on than regular tile or laminates
Ideal for any space, including moisture-prone areas such as basements, bathrooms and more!
Highly durable and low maintenance means they retain their great looks longer than many other flooring types
If you Missed the Show...
If you missed the show or you're a customer we talked to at the show and you want to learn more about the flooring Flooring Superstores has available, we invite you to come to the store to see us. Even when we're back in our home stores, we still love to share our knowledge about vinyl plank, vinyl tile, carpet, tile and other flooring selections we have to offer. Simply contact us or choose which Edmonton location suits you best and come on by!
Did you want to come and see our booth at the show but couldn't? Well we will be at the Edmonton Home and Garden Show from March 17 to March 20. Be sure to stop by and see us because there will be show exclusive sales on flooring, such as 5mm vinyl plank, which you will have to be there to take advantage of!