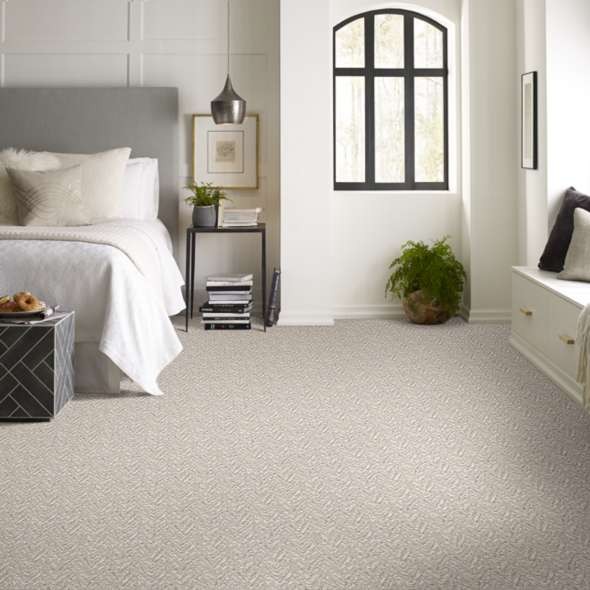 There are so many things to love about carpet flooring. It's cozy, inviting, and more comfortable than hardwood. There is a recent surge in popularity for carpeting and with so many fashions, trends, and styles you really can't go wrong. Should you be wary of following trends with carpet? No! Shaw Carpet Flooring always offers timely, trendy styles that put the home at the heart of what they do. This means not only are they fashion-forward, but they help you find the perfect compliment to your space that you'll enjoy for years to come. Their trends tend to focus on influences that come from nature and create the comfort you need at home. Here are few flooring fashions to know about right now. Visit us today to see them in person!
Nordic Inspired
When it comes to the Nordic style, minimalism is king. This style of flooring is simple but comfortable and functional. Nordic style favours classic, earthy elements that last a long time. Timelessness is incredibly important, and its natural elements and colour palette immerse you in calm and soothing living. Shaw carpet flooring captures these earthy tones in greys, whites, and deep blues. They pair perfectly with modern and minimal furniture or natural wood tones.
Bohemian and Chic
Embrace your youthfulness, curiosity, and wanderlust with a Bohemian-inspired option. This trend helps you embrace your true, realist self. This Shaw carpet flooring palette is playful and sophisticated. Inspired by the colours that make a daring statement and show off your personality. The warn terracotta, dreamy whites, and Turmeric golds are reminiscent of far-off places. This carpet flooring matches great with interesting patterns, distressed furniture, and unique antiques not to mention other bright colours!
Zen and Beautiful
The Zen trend is simple, quiet, and beautiful. Shaw carpet flooring embraces this trend with soft patterns and a similar colour palette to the Nordic style in order to create a still and calming environment. Zen's palette of creamy whites, shades of greys, and browns invoke a sense of earthiness and grounding. They are comfortable, still, and compliment many decor styles. Match these trends with light textures and items filled with natural character. Bring the outdoors in to create a cool, calming, and inviting space.
Mediterranean Inspired
This trend is perfect for contemporary lifestyles and those who love a daring, but beautiful look. Shaw carpet flooring's Mediterranean-inspired options are authentic and natural. They respectfully pay homage to timeless Mediterranean style while embracing the more modern designs of the current day. The Mediterranean palette contains the same creamy whites, sunbaked terracotta, and, of course, the signature cool Mediterranean blues. This carpet pairs perfectly with aged surfaces, old-world tiles, patterns, unique textures, and pops of amazing colour.
Looking for New Flooring? We Can Help!
Let your home furnishing fashionista out with new carpet! We have the latest styles of Shaw carpet flooring, and our knowledgeable staff is here to help you achieve the perfect look for your home. Visit us today to shop with an expert flooring consultant.