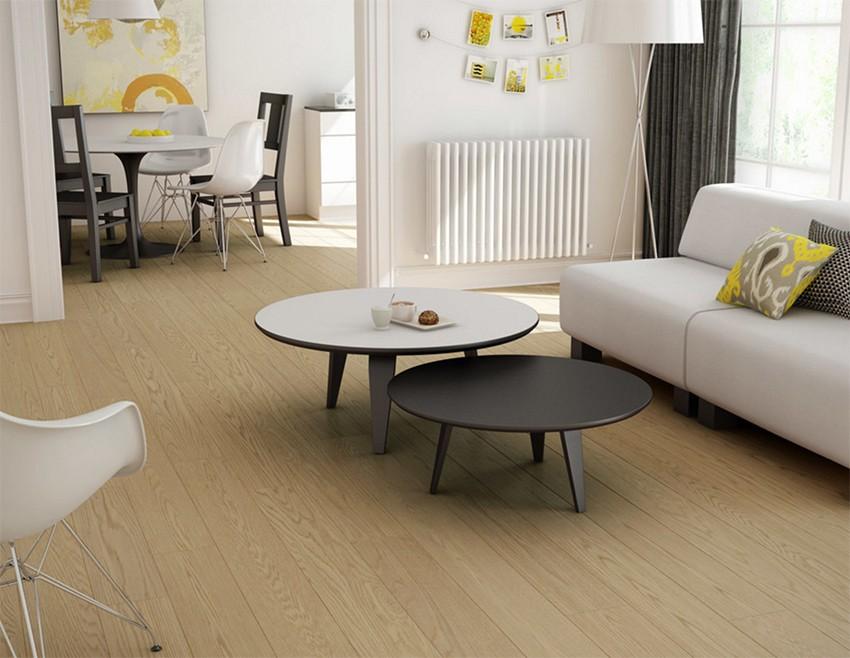 Hardwood has always been a favourite in the flooring world. It can add richness to spaces with a beautiful warm walnut or add character to your home with a distinct riff cut oak stained a cool grey. The thing is, for what seems forever, hardwoods have consisted of narrow strips of wood and other than a couple of options when laying it, it pretty much looks the same wherever you go, but, the world of hardwood has changed. Welcome wide plank hardwood to the game and set your Edmonton home apart from all others.
Size Does NOT Matter
We are sorry, but it had to be said. Standard thought is that in small rooms, you have to use narrow planks to make the room appear larger, but that is no longer the case. Wide plank hardwood can be used in even the smallest rooms in your Edmonton home and not make it feel like the room has closed in on itself. In fact, in most cases, using wide planks can help the room feel more spacious because you do not have as many joints showing. With fewer joints showing, rooms can appear elongated.
Your Imagination is the Only Limit
Since most wide plank flooring is engineered, you are not just getting a more stable wood product, you have an incredible number of choices to suit just about any design style you can dream up. You can choose from several different textures and colours to create your unique look, but you also have a pretty awesome array of choices in finishes too. Depending on your imagination and design style, you can choose from finishes like brushed, hand scraped, edged, smoked and even oiled. With so many options, people love wide plank hardwood so much that they are not limiting it be walked on.
We have also had many customers choosing colours and finishes for creating accent walls in their Edmonton homes. We think using the wide plank hardwood for both flooring and walls might be a little over the top, but once you see it, you might have trouble restraining yourself. We promise to give you a hand with your selection so you do not end up with your Edmonton home looking like a wooden cabin. Unless of course, that is what you want. But that, my friends, is a whole different article!
Contact us or drop into your local Flooring Superstores in Edmonton to check out wide plank hardwood flooring. You have to see it for yourself to start imagining your design possibilities.