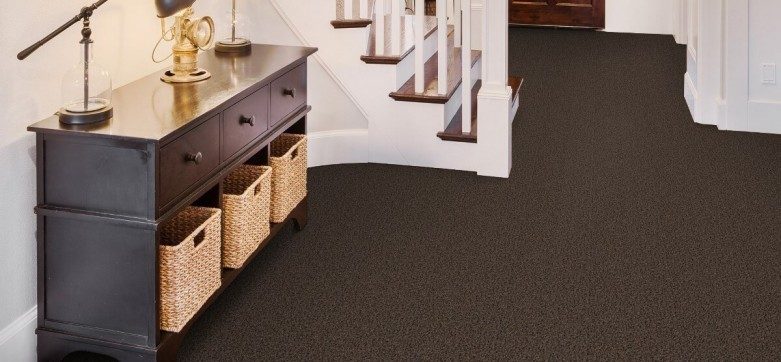 When pet owners are looking for new flooring, they may have special priorities like durability and stain resistance. Pet accidents and other wear and tear from our four-legged friends can take a toll on carpet and shorten its life span. Carpet is the best flooring type for pet owners because pets spend a lot of time lying on the floor. But, do you know which carpet is best for you and your pet? Visit us to pick out your perfect pet friendly carpet.
Here are a few things to consider when selecting carpet for your pet-friendly home.
Know Your Materials
Carpeting is made from various materials including natural fibers such as wool, and synthetic fibers, such as nylon. Each type has its own cost and benefits. Wool carpet is the softest but is more costly than other types and less stain-resistant. Nylon fiber carpeting is the most popular due to its durability, stain resistance, and price. It is typically the choice of carpet for those with kids and pets. Other types, like polyester, may be cheaper than nylon but are far less durable.
Check for VOCs (Volatile Organic Compounds)
VOCs are chemicals found in carpet and other common household materials. They can cause eye, throat, and nose irritation which can contribute to increasing allergies with pet dander. Newer carpet, such as Beaulieu carpet, is made with fewer VOCs making it a good choice for those with pets. Newer carpet also uses less energy to produce and can be made with recycled materials which means it has a positive effect on the environment.
Look at Specialty Carpet
There are specialty carpets on the market specifically designed for pet owners. Messes can soak into the carpet padding and over time, breed bacteria and mold. Beaulieu pet-friendly carpet prevents this from happening. It also reduces your need for frequent replacement because it lasts longer. If you're worried about having to replace the entire carpet, you may want to consider carpet tile squares. These make replacing damaged areas even easier as you only replace them as needed.
Colours and Patterns
Beaulieu carpet host a wide variety of colours and patterns. You may want to consider darker colours or patterned carpet in your pet-friendly home. Light colours can be beautiful but it will show signs of wear and tear much quicker than darker shades. This is especially true with pet stains or if your pet sheds a lot. While you should be cleaning your beautiful carpet often, using patterns or colour can keep it looking fresh no matter how often you clean it.
Inquire About the Cut
Did you know the type of cut of carpet is important? How the fibers are distributed along the carpet can make it more pet-friendly than other types. The more densely distributed the fibers are, the easier it is to conceal dirt, pet hair, and other things your pet can track throughout your home.
Beaulieu Carpet Flooring: A Great Choice for Pet Owners
Beaulieu carpet flooring has been one of the most popular choices in floor covering for years. It is low in VOCs, stain resistant and durable, with a pet-friendly guarantee. With all of the latest styles and trends, Beaulieu carpet can help you strike the perfect balance of style and function for both you and your furry friends.
Add Beaulieu Carpet Flooring to Your Home Today
If you're interested in updating to Beaulieu carpet flooring for you and your pets, contact our flooring experts today.