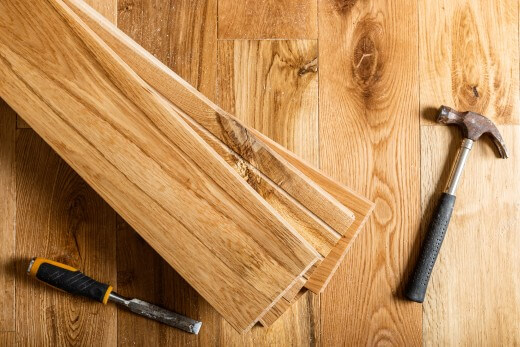 When you have finished replacing your wood flooring, you may find yourself with extra pieces of wood just lying around. Don't simply toss them away! These scraps can be used in other projects to add extra style to your space while being eco-friendly. Here are a few ideas on how to use your spare hardwood flooring throughout your home. Contact us to learn more.
Wainscoting
Wainscoting is both functional and stylish. It protects the wall from scratches and scuffs while adding an extra decorative element to your space. To create your wainscoting, remove the base molding of your wall and cut your leftover floor planks to the length you desire. Glue them to the wall using a construction adhesive. Adhere to the wall with a nail at the top and bottom then reinstall your base molding.
Cabinet Doors
Do your cabinet doors need a refresh? Looking to make a unique statement within your space? Use unfinished planks with the tongues cut off as cabinet doors! Remove the tongues of the planks. Use these planks for the outer structure and glass for the panel. Lock the panels in using the groove side and secure them with glue and/or screws.
Smooth Wallpaper
If you are updating your hardwood flooring, chances are you're making other updates to your home. Wallpaper is back in style and you're likely considering adding it to your home. You can use leftover hardwood flooring to smooth down your new wallpaper. Run the tongue of your plank across the paper while pressing down. Start working from the center towards the outer edges to remove any air bubbles within the adhesive.
Cover the Ceiling
Add extra depth and style your space by covering the ceiling with leftover wood planks. Install some lightweight, hardwood planks horizontal to your ceiling joists with construction grade adhesive. Be sure to nail the tongue of each plank into a joist so it doesn't come free. Now you have a decorative element in a place quite often overlooked.
Build a Table
Use your extra planks to make a function piece of furniture for your home. Leftover planks easily come together to create a special coffee table that fits perfectly into your décor. Fit the planks together and secure them underneath with braces made of scrap-wood. Cut off the visible outside tongue and groove. Stain the edges to match the rest of the wood. Add prefab legs or modern metal legs for a contemporary look.
Create a Cleat
When decorating you may want to hang heavy objects on the wall. In order to do this successfully a cleat could be required. Cut two pieces of your leftover hardwood flooring to a length a bit shorter than the object you're trying to hang. Screw one piece with the groove side down onto the back of the object. Secure the second piece tongue side up to studs within the wall. Lower the object resting the groove onto the tongue.
Multipurpose Flooring
With many great uses beyond it's intended purpose, hardwood flooring is a great fit any home. Give your home a facelift with great new floors, and a little more with these great ideas on how to use up the extra scraps. Visit us today to let us help you choose the right hardwood flooring for your home.