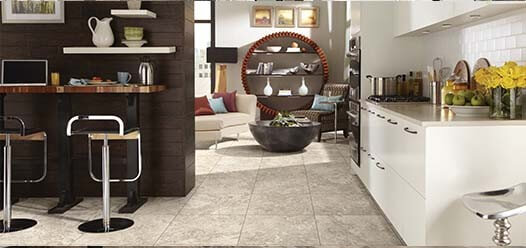 Vinyl tile flooring provides a perfect balance between style and durability, giving your kitchen a look and feel of hardwood for a small price, compared to the engineered hardwood flooring.
So why do you need to consider vinyl tile flooring in your kitchen and not other types available out there? This article addresses this question, helping you make an informed choice.
Stylish
If you are looking for natural stone to provide that perfect shade in your kitchen, or an option replicating rich earthy mahogany, there's a vinyl tile flooring option for you out there. When it comes to the sizes, you have the freedom to select between traditional 2 to 3 inch boards or the large/wide planks.
Versatile
There are usually a lot of activities going on in the kitchen. High traffic, water spills, name it! See, unlike wood, vinyl tile flooring is designed to work perfectly in dry and damp areas. It's water resistant and won't discolour simply because it has been exposed to splashes and spills.
Affordable
Compared to other types of flooring such as solid wood flooring and engineered hardwood flooring, vinyl tiles are cost-effective. You will achieve your desired wood feel and look in your kitchen floor without breaking the bank. Quality vinyl tile flooring features scratch-resistance and waterproofing features, only going for between $3 and $7 per square feet.
Easy to Install
Installing vinyl tile flooring is easy and quick. A good number of them come with a locking mechanism or clock & lock, allowing the professional installer to click them into place just like a puzzle. There are also options that you can easily glue down, making them perfect for rooms receiving heavy traffic.
Durable
Many people love this flooring because of its durability. For starters, it doesn't scratch easily, so you won't need to worry about your little ones driving their police car toys on the floor. The floor will survive all that.
Insulation
Whether it's during the cold months or when temperatures reach record highs, vinyl flooring remains at room temperature. Better yet, they absorb noise perfectly, meaning that you won't disturb whoever is below you.
If you love the idea of style, versatility, insulation, and most of all durability at a fraction of the price, you can get in touch with us to help you install the perfect vinyl flooring. Contact us and let us give your kitchen new life.