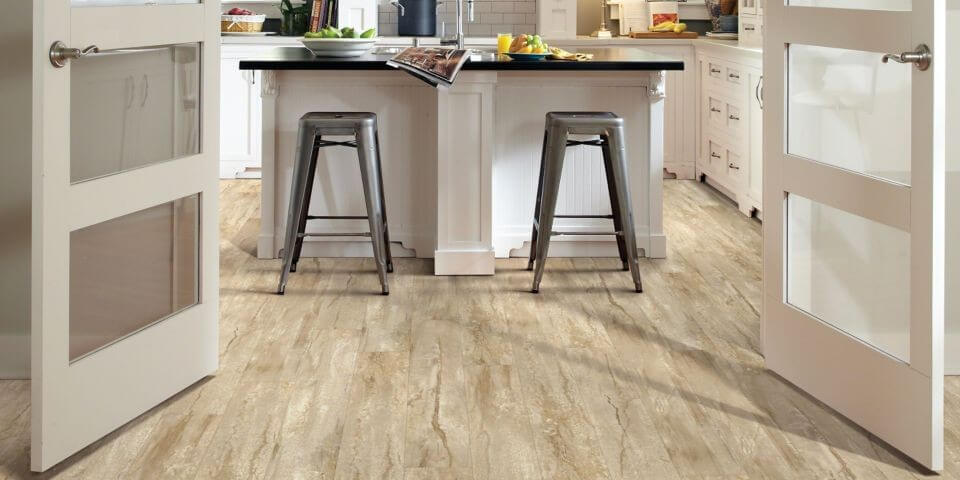 Vinyl flooring is becoming increasingly popular with homeowners due to its resiliency and ability to be placed in rooms where wood flooring isn't recommended. One of our favourite types of vinyl flooring is Shaw luxury vinyl plank flooring and for good reason. Visit us today to shop our selection of Shaw products!
What's Not to Love About Shaw Luxury Vinyl Plank Flooring?
Versatility
Vinyl flooring comes in so many different colours and styles so it can fit into any home decor style. Shaw's flooring is special because it can stimulate the look of hardwood, tile, and even stone! They use images and visuals that perfectly capture the look and texture in order to transfer it to the final product. It looks so natural it will be difficult to spot the difference between a more expensive flooring and a reasonably priced luxury vinyl.
Water Resistance
Shaw luxury vinyl plank flooring is resistant to stains, mildew, and, of course, water. This is helpful for a few reasons. First, it means you can place luxury vinyl flooring in rooms where moisture is present like the bathroom. Second, spills and messes are easily wiped away because they stay on the surface rather than seeping into the material below. Just sweep the mess away, spray Shaw Floors Surface Cleaner, and wipe with a clean cloth!
Cost
Shaw luxury vinyl plank flooring has a much friendlier price than the alternative flooring types. You'll be asking yourself why you ever thought about choosing a different one. Since it mimics the other types of flooring like hardwood or stone, you can get the look for less and it costs less to maintain it over time. Luxury vinyl flooring has a lifespan of 25 to 30 years which means you'll enjoy it for years to come.
Durability
Shaw luxury vinyl plank flooring is a great choice for homes with kids and pets. It's durable and can stand up to even the roughest, busiest families with no problem. This means you can update the flooring in your high traffic areas and not have to worry about when you'll need to replace it. In the event of damage, vinyl tiles are easier to replace than most flooring types! Just simply remove the damaged tile or plank and replace it with a brand new one.
DIY
Vinyl flooring installation is a DIY project that can be completed in one day. There are click and lock installations that are simple and don't require glue. Others can be glued directly to the floor. Whichever you end up choosing they are both easy for you to do yourself!
Are You Sold on Shaw Luxury Vinyl Plank Flooring?
Shaw luxury vinyl plank flooring is durable, reliable, budget-friendly, and easy to install. It is one, if not the best, luxury vinyl plank flooring around. If you're ready to update your home with new Shaw luxury vinyl plank flooring, let us help!