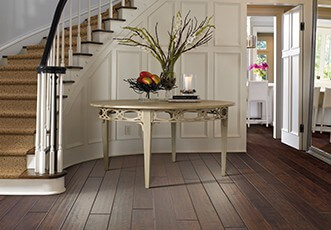 When you've decided it's time for new wood flooring, you'll likely be making a choice between engineered hardwood flooring and solid wood flooring. At one time, consumers regarded solid wood flooring as the only true type of wood flooring, but times have changed. Visit us today to choose the best hardwood floor for your home.
Engineered Hardwood Flooring
Engineered wood is created with layers of high-quality plywood topped by a thin slice of real hardwood on top. It's easy to install, good for kitchens, but has a limited wood selection.
Thickness & Width: Thicknesses range from 3/8 inch to ½ inch. Standard planks are 3 ¼ inches wide, with other plank sizes starting at 5 inches wide.
Finishing: Many engineered wood floors are pre-finished but some companies can do finishes on-site.
Sanding: Engineered hardwood can be sanded lightly but only once or twice. Any more than that, the thin upper layer will begin to wear away.
Installation: It's easier to install than solid hardwood and offers a wide range of installation methods, include stapling, nailing, glue, and fold-and-lock.
Value: Engineered hardwood can increase the resale value of your home. It's made of real wood and can be advertised as such in real estate marketing, making your home more attractive to buyers.
Durability: Engineered hardwood flooring is durable, but not as much as solid wood. The surface is thin and can become chipped or even de-laminated when excessive stress is applied.
Moisture: It's better at dealing with moisture than solid wood. The plywood base makes it more stable, so it doesn't warp or flex when it comes in contact with moisture.
Installation Areas: Engineered hardwood flooring can be installed anywhere. It's the best choice in areas like kitchens and powder rooms. They can be installed below-grade with proper subfloors and within basements where no moisture is present.
Why Choose Engineered Hardwood Flooring
If you're looking for the appearance of real wood but want to be practical, engineered wood is for you. It can be installed in more rooms than solid wood and still returns value but will not last as long as solid wood.
Solid Wood Flooring
Solid wood is just that - solid, hardwood. It's a natural product from top to bottom. Better durability, best for living areas, and has many wood choices.
Thickness and Width: It's typically ¾ in thick. Standard plank sizes begin at 2 ¼ inches wide but can go up to 11 inches wide.
Finishing: Pre-finished solid wood is becoming increasingly popular. Unfinished may be available but only accounts for 35% of solid hardwood available now.
Sanding: Solid wood flooring can be sanded many times. Eventually, it will become too thin which begins to compromise its structure.
Installation: There are two ways to install solid wood: nailing or stapling. There is no option for floating installation.
Value: If the floor is in good shape, it can increase your resale value as much as engineered wood flooring can.
Durability: As long as solid wood is maintained properly, it will last for decades. Moisture is the main enemy and should be avoided.
Moisture: Avoid installing within areas where moisture is present, although site-finished flooring has a sealed layer that repels some moisture.
Installation Areas: Hardwood is best used in living areas, bedrooms, hallways, and dining rooms. Avoid installing in kitchens unless waterproof mats are being used around sinks. Never install hardwood flooring below-grade in basements or in bathrooms.
Why Choose Solid Hardwood
Solid wood is perfect for purists looking for a long-lasting option that adds value. Using solid wood means not having to replace flooring as often.
Let Us Help with Your Choice
Trying to decide between engineered hardwood flooring and solid wood flooring? Contact us today!