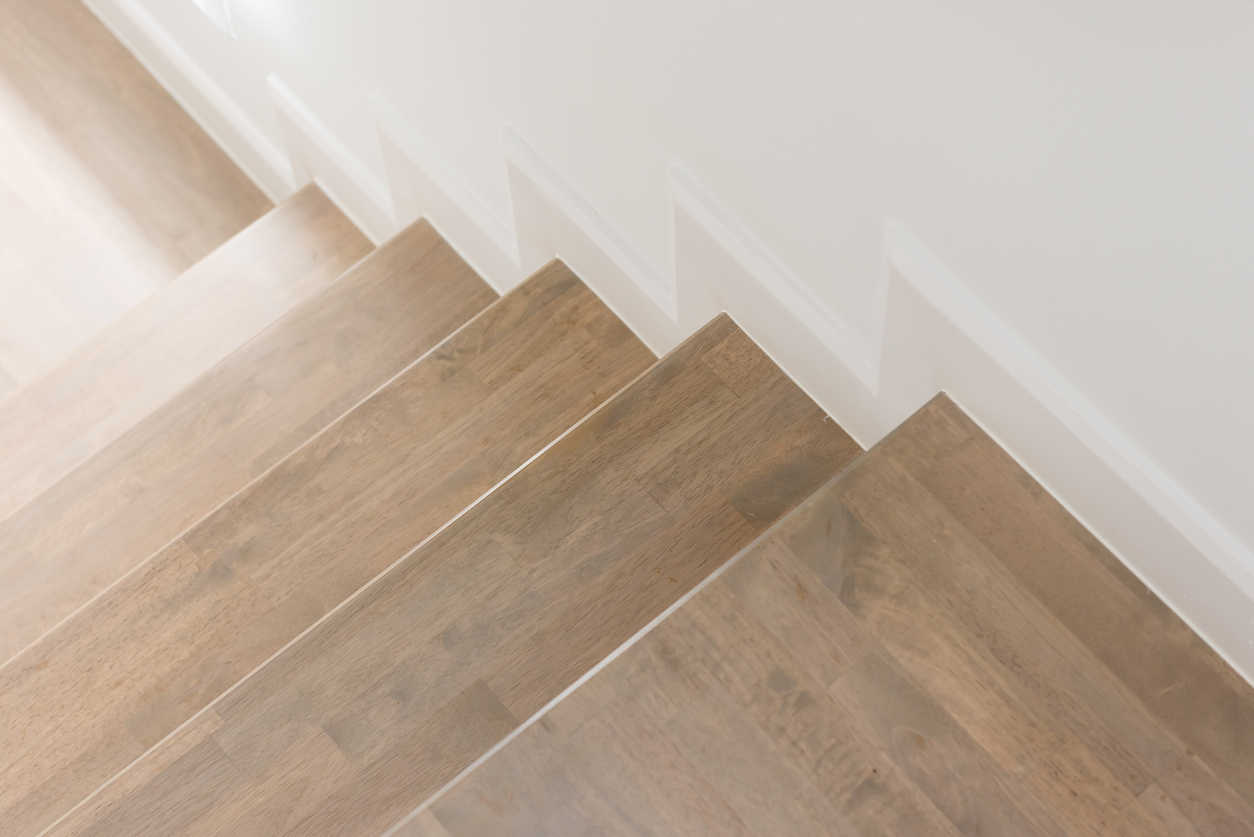 Time and time again you've heard the incredible benefits of vinyl plank flooring. It is beautiful, durable, and easy to install. But one question you may have is: Can vinyl plank go on stairs? What types of planks can you use? And the biggest question of them all: How do you even install vinyl plank on stairs? Installing luxury vinyl plank flooring on stairs doesn't have to be daunting and it can be done. We are here to help. Visit us today to learn more.
What is Luxury Vinyl Plank Flooring?
Before you can even begin to think about installing vinyl planks on your stairs, you should know a little bit about it. It is going to determine if you can install your chosen flooring onto stairs! Luxury vinyl plank flooring is PVC flooring that comes in a variety of different looks to mimic popular flooring styles. Vinyl tiles and planks are not the same as vinyl sheets which have been used for years in kitchens and bathrooms. Those are a thing of the past and definitely not as durable as modern planks.
Types of Vinyl Planks
When it comes to stairs, one big difference you'll need to look at is the core layer. This will determine the floor's feel and how it performs in your home which is important when it comes to stairs. The core can be flexible or rigid with rigid being the most popular. There are 3 main varieties of core:
Pure Vinyl/Vinyl Foam - perfectly fine but doesn't offer the same benefits as the other two
SPC Flooring (Stone-Polymer Composite) - this type has added durability because there is powdered stone mixed into the core.
WPC Flooring (Wood-Polymer Composite) - added comfort and insulation due to wood flour being mixed into its core.
Choosing the Best Vinyl Plank for Your Stairs
You can install luxury vinyl plank flooring onto your stairs. To pick your stylish new flooring, you're going to want to consider the wear and core layers. Stairs typically have a large amount of foot traffic so it should have a thicker wear layer. Be sure to check out the reviews and make up of your floor to determine the one with the best wear layer. With cores, you're likely going to want to go with one that is more comfortable and provides more insulation.
Installing Vinyl Plank on Stairs
Its well-known that luxury vinyl plank flooring is easy to install but must be done right. When poorly installed the planks can come loose or even be uneven. The best way to install them on stairs is by gluing them down. This prevents them from coming loose and causing injury. Always be sure to measure twice. You will save yourself a lot of time not to mention materials. Cut the vinyl, ensure it fits, and spray with adhesive before pressing it firmly against a riser.
Upgrading Your Stairs with Vinyl Plank Flooring
Luxury vinyl plank flooring can be installed on your stairs once you've chosen the right one. If you're not sure where to begin, we are here to help. Visit us today!