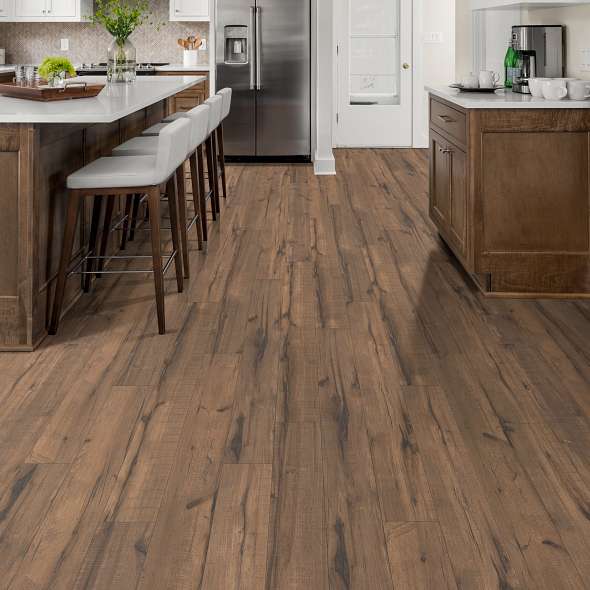 There is no doubt about it, waterproof laminate flooring is one of, if not the best, options for your flooring. It gives your home a luxurious but still comfortable look. In addition to looking beautiful, its water-resistant quality means it will last for a long time - no matter how many spills it takes! But to be fully transparent, we want you to make the best decision for you, so we are sharing both the pros and the cons of waterproof laminate flooring. Visit us today to see what's in stock!
Before we begin, it's important you know what laminate is. This flooring is made to look like wood using synthetic materials. It is typically planked interlocked to create flooring. Over the years new innovative ways of waterproofing and creating the planks has made this flooring much more affordable and stylish.
Pros of Waterproof Laminate
Scratch Resistance: Laminate is created using a strong wear layer that is protective against scratches in addition to water splashes. This means it is ideal for use in kitchens, bathrooms, and other high-traffic areas. To make the flooring even more scratch resistant, use furniture pads and rugs to act as an added barrier of protection.
Affordable Installation: Laminate flooring is easy and low-cost to install. It takes just a few hours and can be a fairly simple afternoon DIY project for a homeowner. Laminates don't need to be nailed, stapled, or glued since it forms a floating floor with its manufacturing process. Laminate can also be installed on top of many other existing floor types including tile.
Easy Cleaning: Hardwood flooring, compared to laminate, takes constant shining and other forms of upkeep. You can't easily mop hardwood, but laminate can be easily spot cleaned using a homemade mixture of vinegar and hot water.
Resistance to Moisture: You're probably considering laminate because it is resistant to excessive moisture. Laminate flooring is great for rooms with high moisture but is also resistant to pet stains and regular water spills. This is due to is manufacturing with added protection and installation techniques that prevent warping.
Cons of Laminate Flooring
Limited Colour Choices: Waterproof laminate has a limited selection of colours. Other types of laminate flooring comes in hundreds of styles and colours, but with waterproof, you may be stuck with dark browns, light greys, reds, and other colours of this nature.
No Refinishing: A pro of getting laminate is the protection from damage when properly maintained. However, should the core get damaged through many accidents or lack of care, it is difficult to refinish. It will need to be entirely replaced which makes many choose hardwood or engineered wood instead.
Artificial Appearance: Laminate may appear like real hardwood and other materials, but it is artificial. Many times it can be identified by its louder sound.
Your New Waterproof Laminate Flooring
Laminate flooring is durable, affordable, and when taken care of, can last a long time. Now that you know the pros and the cons of laminate flooring, stop in and see us today. Our knowledgeable staff is here to help!